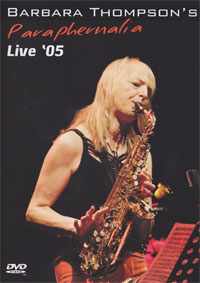 At last! Four years in the making, this is the eagerly-awaited live-in-concert DVD of Barbara Thompson's Paraphernalia.  Filmed at the Theaterhaus in Stuttgart in 2005 by a five-camera team led by Mike Dibb - along with a multi-tracked 24-bit digital audio recording - this is about as close as you can get to the magic of Paraphernalia without actually being there.
Hours and hours of raw camera footage were painstakingly pieced together, edited and re-synced to the digitally-mixed audio and assembled into a DVD by Jon Hiseman - with his usual obsessive attention to detail.
The finished recording is not just a great concert but a tribute to the unique talent of Barbara Thompson, prepared by the man who knows her best.  
This is simply unmissable.
Click here to watch the opening track on YouTube.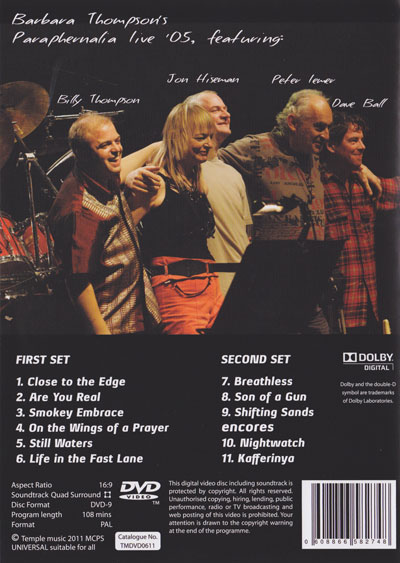 Featuring Billy Thompson (violin), Dave Ball (bass), Peter Lemer (keyboards), Jon Hiseman (drums), Barbara Thompson (saxes)
PAL, Region 0, 108 minutes
Soundtracks: Stereo, 4-channel Dolby Digital Surround
Copyright © 2011 Temple Music 
£12.99