Billy Thompson – Gypsy Style.
Billy Thompson Gypsy Style is a remarkable North Wales based band. This band is violinist Billy Thompson's venture into his version of the 'Gypsy Jazz' style. The band is predominantly based around North Wales and regularly features multi-instrumentalist Neil Browning (guitar/accordion), Eryl Jones (guitar/mandolin) and Greg Robley (bass).
The outstanding harmonica player Ivor Aldred can also frequently be heard with the band.
For some performances, Billy is sometimes joined by the incredible Wells based musician Karen Street on accordion.
Andy Mackenzie (guitar) also appears on occasion with Billy Thompson Gypsy Style. Although Billy performs more with Andy now in a duo or trio setting.
The latest CD, Billy Thompson Gypsy Style – The Eberle Sessions (recorded at Thompsound Music) features all these musicians. There are also 3 outstanding solos by guitarist John Wheatcroft.
What kind of group is Billy Thompson Gypsy Style?
Billy Thompson Gypsy Style perform a mix of Hot Club and Gypsy Jazz classics, fiery Hungarian tunes, some unusual covers and original tunes. They even throw in some tasteful free improvisation. All this is coupled with a presentation second to none and led by the 'unleashable' award winning improvising violinist Billy Thompson himself.
Billy Thompson Gypsy Style bring their musicality and passion to every performance they do. These range from television appearances and headlining large music festivals to private parties and jazz clubs.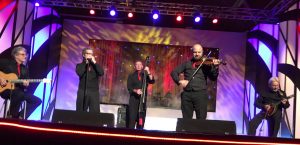 What experience does Billy have?
Billy's HTML website is now at www.billythompson.co.uk/allprojects/index2.html where you can find out about all of Billy's musical projects past and present…
In 1996 and 1998 Billy reached the televised final of the Young Jazz Musician of the Year. He subsequently performed with some of the biggest names around. Highlights have included numerous appearances at Brecon Jazz Festival (photo above c.1999), headlining twice at Ronnie Scott's London with Barbara Thompson's Paraphernalia and being the main support for Tom Jones' home coming concert in Pontypridd in front of 25,000 people with a band called The Amigos.
Incidentally, the day of the Tom Jones gig also saw Billy performing in the VIP hospitality tent and then afterwards traveling to Cardiff to play at a wedding in the MacDonald Hotel.
Please take a moment to watch some videos, look at some photos, read some reviews and generally get to know more about the band that is Billy Thompson Gypsy Style.
Feel free to contact the band here: